3/10/16 - Memorial
When Betty (AKA Buddha) came into our lives, I didn't really know what to expect. Being a senior and not in the best of health, we knew our time with her would likely be short. The goal was just to show her love and give her the best life she had ever known. What I didn't expect was for Betty to steal my heart. I fell in love with her almost immediately. She had the cutest face and I loved how she looked at me. She was the sweetest thing ever. Honestly, I think Betty felt the same about me.
I have fostered many dogs, but Betty was just different. You love them all, but you don't bond with them all. I had such a love for her that made it feel like she was with me from the beginning - I wish she had been. She was so gentle, loyal, and loving towards me - it amazed me. Betty was obviously neglected for a long time. Going by the length of her nails, her medical conditions, and her physical condition (she was skin and bones), I imagine Betty was abandoned and on her own for awhile. Going by her personality, you would never guess she had been without love for any length of time. For such an older girl, Betty still had a real spunk to her, which I loved. She would get so excited for walks, ice cream, and even just to see me when I came home. She absolutely loved bath time. Betty had the best wiggle "nub" ever. My fiancÚ would joke that I let her get away with everything. I would tell him, "That's right, and you will too."
Betty was with us for about 7 months. Again, my goal was just to give her a safe, comfortable, loving home. That was my mission and I knew from the beginning our time would be limited. I didn't expect the goodbye to be as hard as it was. Betty let me know when it was time. I was devastated, and still am. The thought she might be in pain, scared, or confused really terrified me. I know she loved her time with us and I wanted to make sure she left us the happiest she could be.
When we were in the waiting room at the vet, another woman waiting said to me, "The way your dog looks at you is really something. You know that she knows you are her mom and you will protect her." Betty rarely left my side during the time we had her. She waited in the bathroom while I showered, she would nap in the kitchen while I cooked, and we snuggled on the cough every night. I am sure she is waiting for me on the other side. A friend said to me, "You did not put her down, you raised her up." I really love that and I try to remember that when I think about her last day.
1/31/16
Betty will be remaining at her home as a "forever foster." Her health has been declining and Betty is falling more. We will continue to monitor her health and keep her comfortable. If you are interested in helping Betty, please consider donating towards her care!
11/12/15
Betty is doing great! She has been to the vet, who recommended that Betty be allowed to live her life and remain comfortable without any further work up or removal of her lumps and bumps, since her blood-work looked great. Despite her mature age, Betty gets very excited for walks. She particularly loves naps and even enjoys bath time. Betty gets around well for her age, but does fall occasionally on uneven surfaces. She does great with the other dogs in her foster home. Betty is so thankful to AABR for giving her a chance to look for that special forever home that wants a silly, friendly senior gal!
9/24/15
Senior sweetheart Buddha, now Betty, wanted to check in and let everyone know that she is so happy AABR took a chance on her. She has the best disposition and is a joy to have around. When she wags her little nub, it just melts your heart. Betty heard that sometimes super nice people decide that they want to add a senior to their pack and she is hoping one of those nice people fall in love with her pretty eyes and subtle underbite. She would love a forever home that wants to spoil her every day. If you are looking to spoil a senior for the rest of her life, put in an application today!
8/31/15
Buddha visited our rescue vet and she may have thyroid cancer. She did very well with all the poking and prodding, so she deserved some ice cream after the visit! We will post an update once we get the results of her tests back.
8/19/15 -
Meet Buddha, a boxer girl estimated to be around 10-11 yrs old. She was brought into the shelter as a stray and has not been well cared for. Buddha has several lumps which will be checked soon by our vet. She is also very thin. Buddha has a sweet temperament and just arrived at her new foster home. In her temporary foster placement, Buddha attended a birthday party and was very loving with everyone she met. In a few short days, Buddha won over many hearts in her neighborhood. She does wonderful with other dogs and really enjoys being around people. We will update Buddha's page once she visits our vet and her new foster home learns more about her!

(click pictures to enlarge)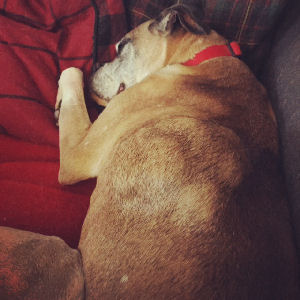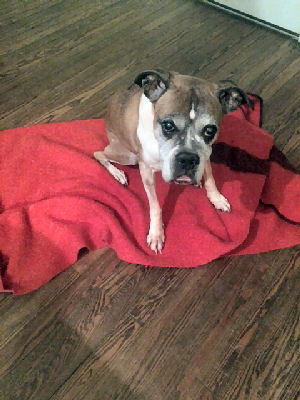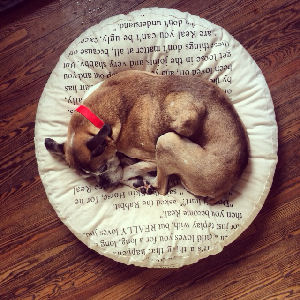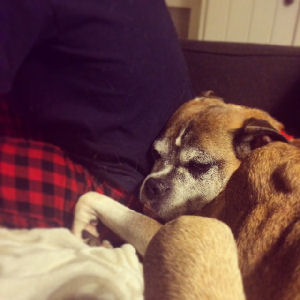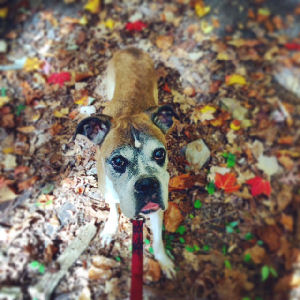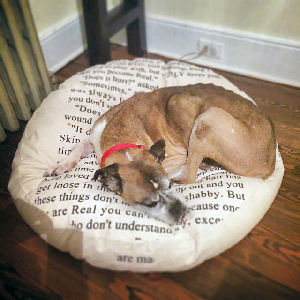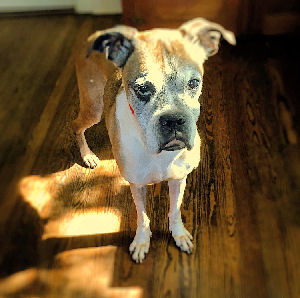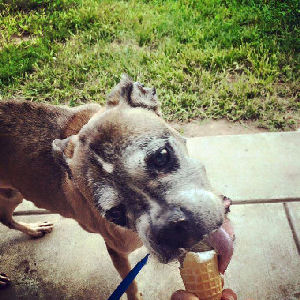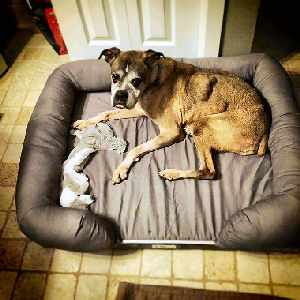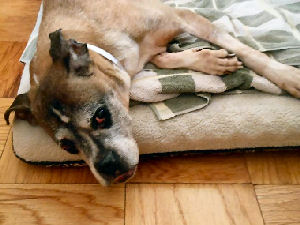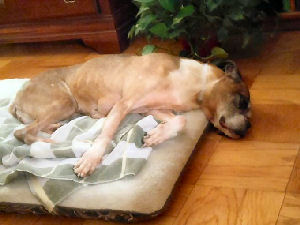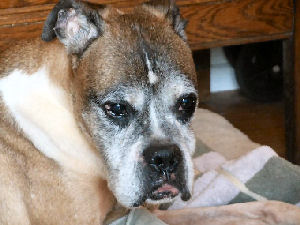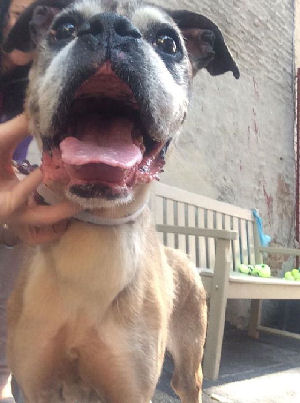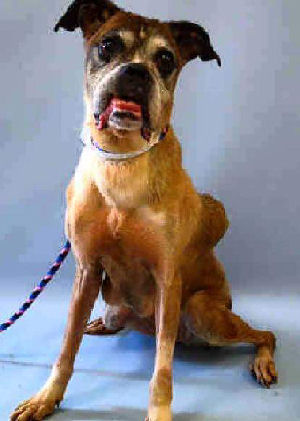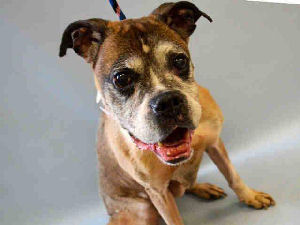 If you are interested in adopting this dog, please first read our Adoption Procedure, by clicking on the link at the top of this page, then fill out an online application.
Boxers and Applicants are not matched on a first come, first served basis. Not all applications are approved. On average, it takes between a week and 3 months to adopt a Rescue Boxer to an approved applicant, depending on your personal circumstances and flexibility.
Not every home is the right match for a boxer, and matching Boxers suitable for placement with younger children, other dogs, cats, and special needs, yours and theirs, increases the application review time and adoption time.
And yes, we realize that the Boxer you may have your heart set on, may be adopted before you're approved. Should your first choices all ready found their forever home, we want you to advise us at your home visit of other dogs you are interested... Or let us suggest a few that we feel will match your home. That is what we are good at. And be happy for the ones that have been placed... and know that there are way too many fantastic dogs waiting in their place.
Our non-profit organization is wholly comprised of hard-working volunteers whose only reward is seeing our wonderful Boxers placed in loving, permanent homes and given another chance for a happy life. Our process may seem slow, but if you are patient, we will try to provide you with a devoted, loving companion - a Boxer.
We hope you feel that the right Boxer is worth waiting for.
Adoptions Fee: Please see our adoption info by clicking on the link at the top of this page.