1/14/16 - MEMORIAL
Dempsey had to be rushed to the emergency vet with a suspected blockage from eating a stuffed toy. The X-Ray and ultrasound indicated that the mass on his spleen had also increased in size. After discussing everything with the vets, his foster mom made the difficult decision to say goodbye.
10/11/15 - Forever Foster update
We have decided to make Dempsey our permanent "forever foster." He is almost 11 years old now, and was recently diagnosed with Cushing's Disease. We are puzzled why no one ever showed much interest in this great guy, but he is happy and comfortable in his foster home. Dempsey shares his home with five cats, Gulliver (a Jack Russell), Finn (mixed breed), and our other forever foster, Rocky Road.
We would appreciate your continued support of Dempsey, as the medication and continued retesting to regulate his medication will average $2400 or more annually. Please consider a donation on his behalf. Without AABR and all of our supporters, Dempsey wouldn't stand a chance and this dear, funny, wiggly, love bug means the world to us!
10/05/15 - Forever Foster
Dempsey has been diagnosed with Cushings. A recent ultrasound also revealed masses on his adrenal gland, liver, and spleen. Due to his medical and behavior needs, Dempsey will be remaining with his foster home. AABR will continue to manage his vet care - please consider sponsoring Dempsey!
8/03/14
Dempsey continues to be an awesome guy. He is easygoing, knows his manners, and is good with all the other animals in our home (4 dogs, 3 cats, and 2 birds). He loves to run around the yard and play a little soccer. Our newest foster, a young female pit mix, has become a favorite playmate. They love to wrestle and he has no problem keeping up with the wild child. Our Dempsey is a sweet guy who loves to snuggle and has the most incredible good looks. As you can see, he also enjoys an afternoon nap in a comfy chair. Dempsey is an all around gentleman, with an adorable, kissable, smooshable mug that you just can't help but love!
6/23/13
Dempsey continues to "live the dream!" He's learned some valuable lessons concerning bossy behavior with dogs you don't know after a stay with a more dominant temporary foster brother. I think Dempsey's lack of socialization with people and other dogs, and all those lonely months at the vet hospital, made the adjustment to living a home a lot harder for him. He has come a long way, though, from his arrival in foster.
Dempsey loves to play and run with our youngster, Finn. They tear around the yard every night when I get home. He is an awesome soccer player and dribbles the ball around the backyard with his nose, then grabs the ball and shakes the life out of it. He is wonderful with our cats and Chihuahua mix as well. He must have been trained to stay off of the furniture, because even when invited he rarely joins us on the couch or the bed. Dempsey is very obedient, comes when called, sits in a second, and is just a very well behaved boy. He pulls on the leash, but is very smart and a little work would fix that in no time. Dempsey has a favorite rubber ball that he will chew on for hours, but loses it under the couch every day and comes to me with a look that I now know means,"please find my ball mom". He was standoffish in the beginning, but now comes for hugs and kisses, and a nightly butt rub, which is his very favorite thing! He occasionally shows that boxer stubborn streak we all know so well, but I just give him a second, repeat what I want him to do, and he does it.
Dempsey is still working on socialization with strangers, but is adjusting well to the neighborhood kids who now have pools and trampolines on both sides of our yard. Dempsey has turned into quite a wonderful boy. He was dealt a rough hand, but has come through the sadness to be a happy, wonderful, silly, typical boxer boy. He even had his shot at stardom back in May when he was part of 6ABC's Shelter Me spot on the local news. He was a perfect gentleman with all the dogs and their foster parents during the shoot.
Dempsey's ideal family would have a young dog to be his playmate and keep him running and wrestling. A fenced yard is a must, because he just loves to run and chase the ball. He will do well with a single owner or couple, but I think he'd be better with kids well into their teens, since he has never lived with younger children. Patience will be necessary since it may take him a little while to warm up to his new family because of his sad past, but this boy is sooooo worth the wait. If you're ready for a well mannered, sweet, playful, funny, wonderful dog, then Dempsey is your man.
12/09/12
Dempsey is doing just great! He has become best buds with our 2 yr old big dog, Finn, the madman! Even though he recently turned 8, Dempsey keeps up with Finn 's very active play with no problem. In fact, Dempsey often likes to start the wrestling matches. He is a very well mannered boy who always does what is asked of him and is respectful of our little Chihuahua mix and cats. He does have a hint of that boxer stubborn streak, but it rarely shows itself and he always gives in to the boss. He is completely crate and house trained, and has very comical side. He loves to roll over on my feet so I can scratch his back, and also rub his belly at the same time. When it's time to get up, I often wake up to find him patiently sitting beside the bed watching and quietly waiting for my eyes to open, or I feel a gentle kiss on my hand to help the process along.
Dempsey has come a long way since his arrival. He sometimes still seems a bit uncomfortable with some strangers or if I hug him unexpectedly. He does seem to love a good squeeze though, as long he's not surprised by it. Oh, and does he have a gorgeous mug! He is just so handsome. I hope that he can find a wonderful home to replace the one he lost. His ideal family would have older children, in their teens, a cat is fine, and good dog buddy to pal around with would be OK too, but not necessary. He is just an all around great dog. Is he your dog?
7/24/12
I had a very nice visit with Dempsey today. We spent about 90 minutes together, getting to know each other better on a blanket under a big shade tree. As eager as he was to get out and run around, every time he hit the end of the leash, he stopped and politely waited for the go ahead to continue. We discovered that Dempsey not only knows sit, he also knows shake and down! He is very gentle when he takes treats. After playing for a bit, he was content to just lay next to me and accept belly rubs. The video below will give you an idea of how our 'date' went - drink some water, drink some more, play, and relax!
http://www.youtube.com/watch?v=aqiloWPXG08
We're planning on a r-i-d-e in the c-a-r for our next date, though I'm really hoping he can find a home before then! Please consider adding Dempsey to your family.
7/1/12
We visited Dempsey at the kennel again this weekend. He was neutered this week and is recovering well. We took another young male up to meet Dempsey so we could get a better feel for how he will be with other dogs. He did great! Once we were outside, Dempsey really seemed to enjoy taking a run on the grass and once he realized there was another dog there, he showed curiosity. Within seconds, he was ready to play! For a dog who has never lived with another dog, he certainly knew exactly what to do.
In talking to the kennel staff, Dempsey really does not get out at all. He has time in the play yard every day, but probably has not been out the front door in months. He's a very sweet boy who is doing amazingly well considering how long he has been in the kennel. I'd like nothing more than to be able to get him out and into a home - foster or adoptive. Please consider Dempsey! A short video clip is below:
5/8/12 -
Meet Dempsey! He is a seven year old boy who has been living at the vet's office since his owner became too sick to care for him last August. Word got out to AABR recently that he needed help with finding a new home. I met Dempsey today and can tell you he is a typical boxer boy - he loves to play, was very happy to get visitors, and gladly posed for some pictures between ball throws. What we know about Dempsey is largely from the kennel workers who have been caring for him for the last 8 months. He appears to have some basic obedience training and will sit immediately when told. He does not soil his kennel and takes care of what needs taking care of as soon as he gets outside. He allows handling on all areas of his body and really enjoys a good scratching! Dempsey loves being out in the play yard and is also good when he needs to be in his kennel. I took my 12 year old nephew with me so we could gage his reaction to kids and he was fine. A little jumpy at first, but he had just come out of his kennel. He calmed down very nicely and within a few minutes, he was sharing kisses with all of us. Dempsey is just getting over kennel cough and will be neutered soon. Get your applications in for this sweet boy!

(click pictures to enlarge)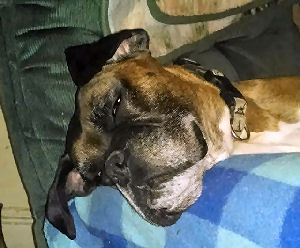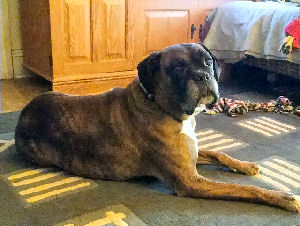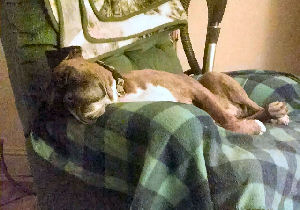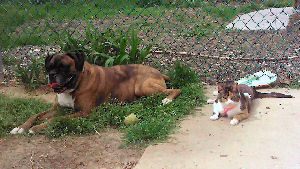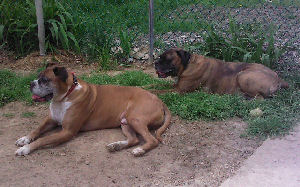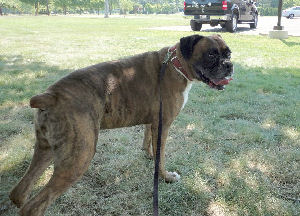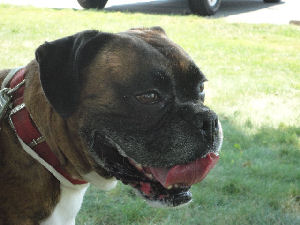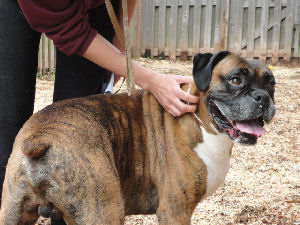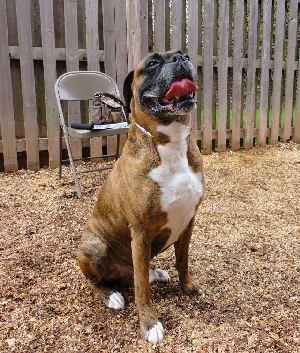 If you are interested in adopting this dog, please first read our Adoption Procedure, by clicking on the link at the top of this page, then fill out an online application.
Boxers and Applicants are not matched on a first come, first served basis. Not all applications are approved. On average, it takes between a week and 1 month to adopt a Rescue Boxer to an approved applicant, depending on your personal circumstances and flexibility.
Matching Boxers suitable for placement with younger children, other dogs, cats, and special needs, yours and theirs, increases the application review time and adoption time.
And yes, we realize that the Boxer you may have your heart set on, may be adopted before you're approved. Should your first choices all ready found their forever home, we want you to advise us as to other dogs you are interested in at Adoptions@AdoptABoxerRescue.com . Or let us suggest a few that we feel will match your home. That is what we are good at. And be happy for the ones that have been placed... and know that there are way too many fantastic dogs waiting in their place.
Our non-profit organization is wholly comprised of hard-working volunteers whose only reward is seeing our wonderful Boxers placed in loving, permanent homes and given another chance for a happy life. Our process may seem slow, but if you are patient, we will try to provide you with a devoted, loving companion - a Boxer.
We hope you feel that the right Boxer is worth waiting for.
Adoptions Fee: Please see our adoption info by clicking on the link at the top of this page.