1/28/12
Sawyer continues to wait for his new forever family. His current family is heartbroken with having to surrender him, but they can not manage two dogs. Sawyer is very friendly with all people. He does well with the husband, who does better at managing both dogs - as he knows how to read the unspoken canine language. Sawyer knows hand signals and he loves walks and car rides. He runs to the door and sits when he see his leash - he does the same when his Dad has the car keys. His Dad reports that Sawyer is very smart and loves to be rewarded with tasty treats. He is house trained and uses the doggie door. In his previous life, Sawyer was cat friendly. In his current home, he lives with a rabbit and pays no mind to it.
Sawyer would be a great addition to your home. Ideally, his new home would have multiple dog experience with introductions and patience with transitions. Children are fine as he is great with people, but he would do best with older children who perhaps had experience communicating with a deaf dog. Of course, we would prefer a fenced in yard as training on an invisible fence for a deaf dog can be challenging. Sawyer could also go to a city home where he will be leashed at all times. Sawyer can live with another dog that is easy going, as long as his leaders are in charge. That's you, correct! Please apply today.
12/31/11
Say hello to Sawyer - he is being surrendered by his owner and coming back to AABR. Sawyer is a sweet, loving boy and knows all his hand signals. He loves to chase reflections and shadows in the backyard and will come in with a hand signal. Being deaf, Sawyer will need patience in order to get adjusted in his new home. Please apply to foster or adopt Sawyer today!
9/2/09
Sawyer is doing well in his foster home. He knows how to sit, stay, and come on command. Sawyer loves taking baths and he will jump right into the tub. He is in foster with a 2 yr old boxer mix female, and is continuing his work on proper socialization skills. Sawyer is a very happy dog and he loves to be close to you. Apply today if you are interested in adopting Sawyer!
05/13/09 -
Hi everyone meet Sawyer, a fine young man who has hit a rather rough patch on the road of life. Sawyer's family has been having financial difficulties and illness in the family, which has left Sawyer at the bottom of the priority list.
He has some very treatable health issues of his own that his family did not attend to. He has a double ear infection, and demodex (skin condition). He is undergoing treatment for both at present, and should do very well over the next few weeks. He is a very happy go lucky guy despite his skin & soar ears. He is extremely playful, and is doing his best to adjust to his new life that includes a number of other dogs. He has not been particularly well socialized, and the females in the house are helping him learn appropriate pack behavior. He doesn't always seem to get it right away, and we've had a skirmish or two, but he's doing better every day. He has had so little training, practically none actually, that it's not surprising he's a little slow on the uptake, and he'll need a strong leader to help him adjust in his new home.
He is deaf, but that does not detract from the fact that he's a smart boy, and with the right guidance he should come along in no time. He does appear to be house & crate trained, and very interested in our resident feline, but mostly out of curiosity. He seems completely disinterested in our resident birds.
He had his first social outing to Petsmart, and had a total blast. He just loved everybody, dogs, adults, and kids included. He gave out several free sloppy facials to anyone who was at face level. I was really pleased with his behavior, and he has been sleeping like a rock since he got home.
At this point I recommend a family with kids at least 10 years of age, solely because of his intense energy level, and lack of training, but this is one really sweet boy, and he'll be an absolutely AWESOME addition to the family that is willing to put some time & training into him. He is just a super guy! If you can't make Sawyer a member of your pack, then maybe you could make a donation on his behalf? The medications for his ears & skin a really expensive, and we'd so appreciate any help that you can give, so that we can continue to help all of the dogs like Sawyer that just need some time, love, care & understanding.
Please think about giving Sawyer a helping hand, or of becoming the family that he so deeply deserves.

(click pictures to enlarge)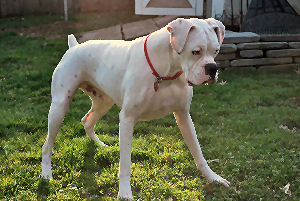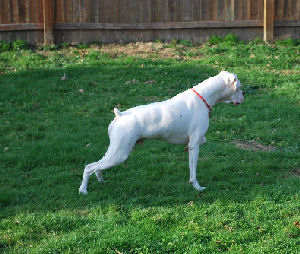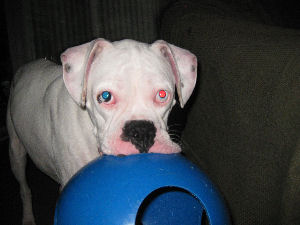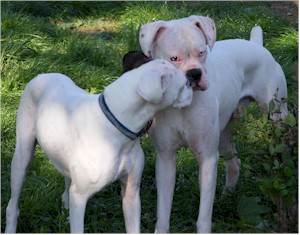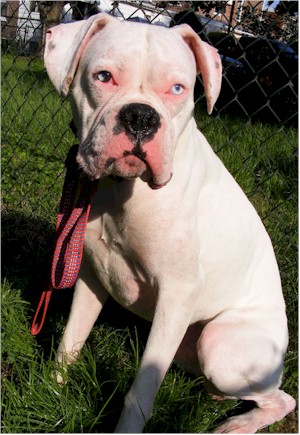 If you are interested in adopting this dog, please first read our Adoption Procedure, by clicking on the link at the top of this page, then fill out an online application.
Boxers and Applicants are not matched on a first come, first served basis. Not all applications are approved. On average, it takes between a week and 1 month to adopt a Rescue Boxer to an approved applicant, depending on your personal circumstances and flexibility.
Matching Boxers suitable for placement with younger children, other dogs, cats, and special needs, yours and theirs, increases the application review time and adoption time.
And yes, we realize that the Boxer you may have your heart set on, may be adopted before you're approved. Should your first choices all ready found their forever home, we want you to advise us as to other dogs you are interested in at Adoptions@AdoptABoxerRescue.com . Or let us suggest a few that we feel will match your home. That is what we are good at. And be happy for the ones that have been placed... and know that there are way too many fantastic dogs waiting in their place.
Our non-profit organization is wholly comprised of hard-working volunteers whose only reward is seeing our wonderful Boxers placed in loving, permanent homes and given another chance for a happy life. Our process may seem slow, but if you are patient, we will try to provide you with a devoted, loving companion - a Boxer.
We hope you feel that the right Boxer is worth waiting for.
Adoptions Fee: Please see our adoption info by clicking on the link at the top of this page.