3/7/10 - MEMORIAL
It is with deep sadness that I must report the loss of Penny, aka "Pennybear".

Penny was taken to the

rainbow bridge

on Saturday March 6th by some of those who cared for her and loved her most, myself, Gail and her two buddies, Michelle and Mandy.

Her passing was very peaceful, with her last moments being held and kissed on her head, lying on her favorite

fleece blanket

, snuggling her new monkey.
It was obvious Penny loved the simple things in life, a good meal, a warm bed, lots of toys, and walks, of course.

For a short time I gave Penny all these things, and I loved her dearly.

Though she couldn't always show it, I know in my heart Penny knew this.
Due to her past experiences, Penny found it hard to trust others, both humans and other dogs.

Knowing that she had such a hard life before she came to AABR, and the affect it had on her, fills my heart with so much sadness.
The only thing that helps me cope with this, and her loss, is knowing Penny at least had a chance to experience the feeling of a warm and loving home for her time spent with me, and that she knew the kindness of AABR volunteers who cared for her and visited her these last few months.
I feel Penny's little soul is finally resting, and she is in a place now where she knows and feels trust, has no pain, and she is at peace.
I will remember Penny her for her

beautiful soul

.
I want to thank Gail and Jim Monk for their support and for watching over Penny recently.

What you have done for Penny and I, and what you do for AABR is truly appreciated.
11/8/09 - Update
Life can be harder for some of us than others. Penny found life without a home on the streets of New York almost impossible to bear. Every day was a struggle to find something to eat and to keep away from people who might harm her. We've no idea how she found herself in this sad situation but by the time a kind passer by discovered her afraid and underweight, she was clearly marked by her experiences. Trembling and hungry for a good meal she went home with her good Samaritan whose wife did not agree with his plan to offer Penny a permanent home. She was entrusted to rescue care and eventually found a home with a single man who worked hard to make Penny happy.
Because of Penny's sad life, she finds it very hard to trust people and can be startled by unusual noises, she can feel threatened in situations that wouldn't bother a dog who's always known the love of kind people. She can be grumpy and disagreeable with other dogs and tries to keep the things that she values for herself - hardly surprising for a girl who had to survive like a homeless person on the streets.
When Penny's Dad's life changed and a human Mom and another dog joined the home, Penny found it hard to cope and made her feelings known to the new dog and her people. She is now in kennels without a home once more.
Penny is a dog who will spend the rest of her life working to trust humans. Many humans know exactly how she feels. She will not always be able to express the affection that she feels by snuggling or being hugged close but that doesn't mean she isn't feeling it. Sometimes it will be enough for her to lie close to you, go for a walk or just be in the same room, dogs like Penny will let you know when they are comfortable and when they aren't. She is hoping that a quiet, adult only home with no other pets will want to share some of those home comforts with her, someone who can be patient, not expect too much and not feel hurt when she doesn't want to cuddle all the time. Penny needs you to understand that she so wants to trust and with the right person she can continue to improve. Can you be that special person for Penny and offer her a warm home for the Winter? If you can, it could be the start of a heartwarming relationship.
12/22/07 - From her Foster Dad
Hi Guys,
Just figured I would give you an email update on Penny. She is doing fine, quite a character. She is good in the house during the day and is starting to get in her routine...eat, play then nap. She follows me around and likes to cuddle up on the couch next to me at night. She has made me feel better having her around. I got her a nice new dog bed but she prefers the couch or my bed.
Dan
7/13/07 -
Meet Penny, a girl who was found wandering the busy streets of New York city, hungry, alone and afraid: no place for a dog who should have been curled up safe at home.
Fortunately for her, a passer by noticed the fear in her eyes, took her home and contacted rescue. Penny has taken a long time to warm up to people and gain trust and her foster home is working very patiently with her, showing her that not all humans will do her harm and that in fact, people can be rather kind and good fun.
She has started to play with her foster brothers and is less startled by strange noises but she still has a way to go on her journey to becoming a more laid back girl.
To help build her self esteem, Penny would need a less active home with not too many people coming and going and her people will need to be calm, patient and understanding of her needs. A home without children or with responsible older kids would be best as little kids running and squealing may frighten her.
If you feel that you could be a special person for Penny and continue to help her grow and flourish into the girl she deserves to be, please fill out an application and mention her by name, she'll be flattered for sure!
If you cannot adopt but would like to sponsor Penny while she is in our care, please send a donation to AABR with her name on, we'll be certain to see that she gets some special treats and goodies to make her stay with us even better. Thank you for reading her story!

(click pictures to enlarge)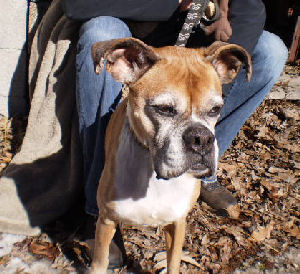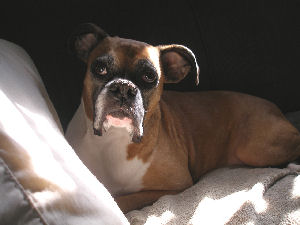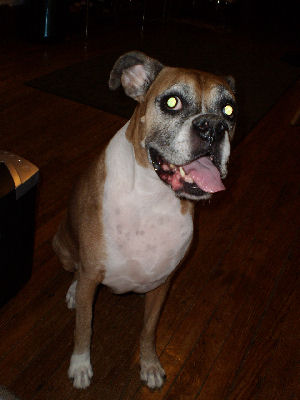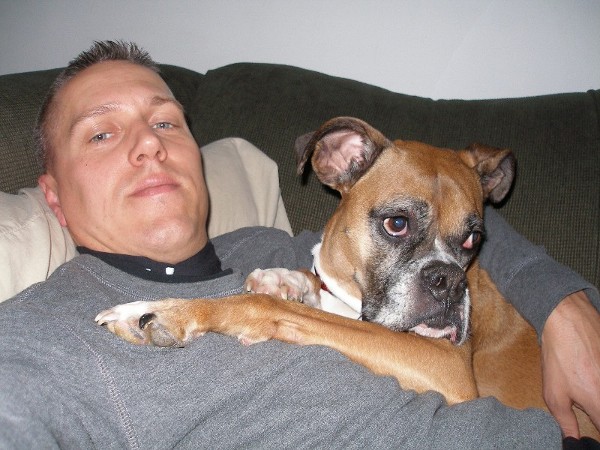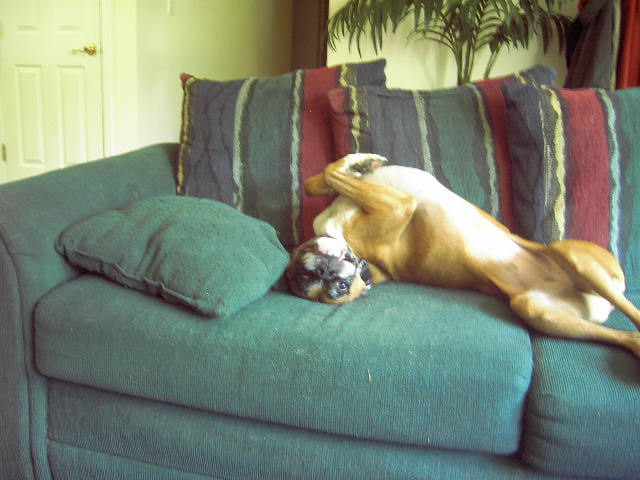 If you are interested in adopting this dog, please first read the information on our Adoption Procedures, then fill out an online application.
Boxers and Applicants are not matched on a first come, first served basis. Not all applications are approved. On average, it takes between a week and 1 month to adopt a Rescue Boxer to an approved applicant, depending on your personal circumstances and flexibility.
Matching Boxers suitable for placement with younger children, other dogs, cats, and special needs, yours and theirs, increases the application review time and adoption time.
And yes, we realize that the Boxer you may have your heart set on, may be adopted before you're approved. Should your first choices all ready found their forever home, we want you to advise us as to other dogs you are interested in at Adoptions@AdoptABoxerRescue.com . Or let us suggest a few that we feel will match your home. That is what we are good at. And be happy for the ones that have been placed... and know that there are way too many fantastic dogs waiting in their place.
Our non-profit organization is wholly comprised of hard-working volunteers whose only reward is seeing our wonderful Boxers placed in loving, permanent homes and given another chance for a happy life. Our process may seem slow, but if you are patient, we will try to provide you with a devoted, loving companion - a Boxer.
We hope you feel that the right Boxer is worth waiting for.
Adoptions Fee: $300